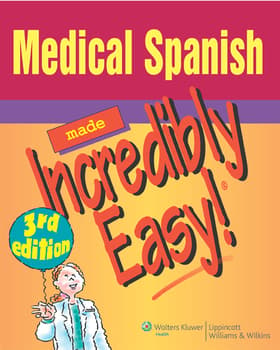 Medical Spanish Made Incredibly Easy!
(Just follow this link and click BOOKS@OVID in top left)
This guide will help health care professionals in all clinical settings communicate easily with Spanish-speaking patients. It presents Spanish words, phrases, questions, and instructions that cover signs and symptoms, history-taking, assessment of all body systems, mental health, diagnostic tests, disorders, medications, procedures, surgery, nutrition and diet therapy, medical equipment, and alternative and complementary therapies. Features include a picture dictionary, clear body-system illustrations with labels in both languages, rules of Spanish pronunciation and grammar, and indexes in English and Spanish.